Multi-Functional elight beauty equipment, best Hair Removal machine.
Theory:
E-light combines three advacned technologies: Bipolar Radio Rrequenc+IPL+Skin contact
cooling.When these three are united can be expected.The energy of Radio Frequency can
reach the middle and deep layer of the skin and heat up tissue,thus ,lower energy is applied
during the IPL treatment.Uncomfortable feeling during the IPL treatment will be decreased
significantly and better result can be expected ,In addition , cooling system involved in E-light can also ease
the uncomfortable feeling. The absorbing of the energy of radio frequency
is not concerned with melanin.so,The Elight treatment can get good result on the soft or thin hair so as to decrease the risk caused by traditional IPL treatment.

Application Range:
1.Remove undesired hair permanently from various areas of the body for all kinds of hair color;
2.Remove speckles\age spot\sun-induced freckles from various types of skin;
3.Remove facial vascular lesions;
4.Skin rejuvenating and lessen deep wrinkles;
5.Tighten skin and remove acne.
6.Skin whitening.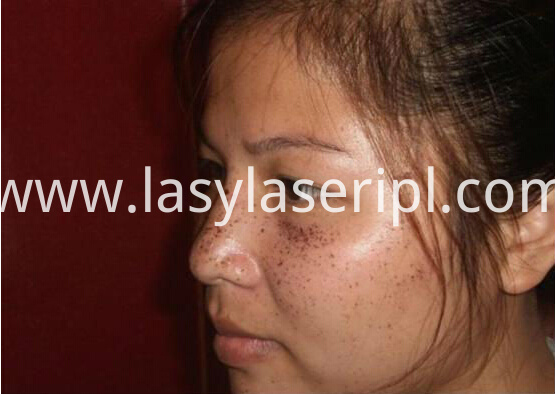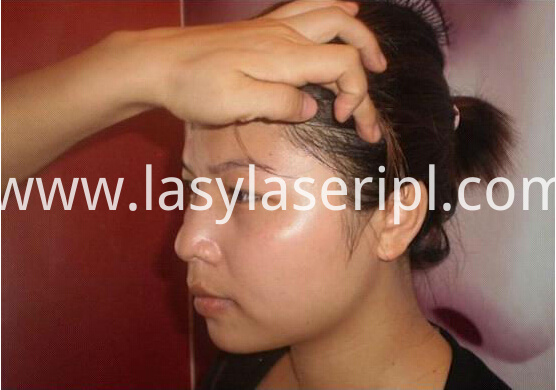 Technical Parameters of E-09:
| | |
| --- | --- |
| Model | E-09 |
| Range of Spectrum | 480,530,640-1200nm |
| Option | 430,585-1200nm |
| RF Frequency | 10MHz |
| Max RF Output | 0-100J/cm³ |
| Density of IPL Energy | 1-50J/cm², adjustable |
| Spot Size | 8*30mm² 13*40mm² 15*50mm² Optional |
| Amount of Pulse | 1-6, adjustable |
| Interval of Pulse | 1-99ms, adjustable |
| Sub-pulse Width | 0.1-9.9ms,adjustable |
| Emitting cycle | 1-4s, adjustable |
| Skin Cooling | -4-10 Degrees |
| Display Screen | 8.4 inch LCD color touch screen |
| Cooling Way | Wind, water and handle with semiconductor cooling |
| Power Supply | 110V/220V, 50Hz/60Hz, 12A/6A 1200W |
| Dimension | 54*62*120cm |
| Weight | 58kg |
Working Screen of E-09:

Level 1 2 3 are for different kinds of skin, 1 is for white skin, 2 is for yellow skin, 3 is for the skin a little black.
Cooling degree has 5 grades can be adjustable, from -5°C-10°C adjustable.
Features of E-09:
1. 100% American imported [plug and play" handle connector: integrates with perfect water-electricity isolated system inside; enhance the stability of performance and easy maintenance and repair actually
2. Alarm protection system of water flow and water temperature: protect people and machine against any risk at the first time
3. Comfortable: painless-sapphire temperature cool down -5-10 degrees, comfortable in the whole treatment; also no scar in/after treatment
4. Perfect cooling system: semiconductor + air + water, good performance for long time working
5. USA import power supply to promise most safety and strong energy.
6. Advanced technology of [fast plug connection", make the install and replace more easily and safer.
7. Japan import semiconductor water cooling system to ensure 24 hours working continuously.
8. Expert operation software with most suitable parameter, easy to learn.
9.Modularized inner instruction, safety to transport and easy to maintain.
Pictures of Specifications: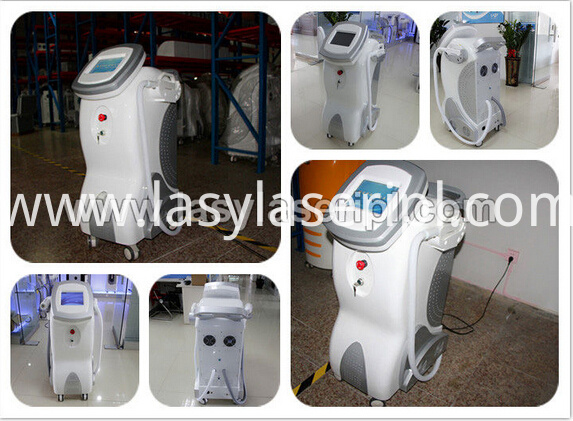 After sale service:
We have one year warranty, two year update warranty and lifetime maintenance:
1. Within one year, if there is some accessory going wrong, we will send you the accessory at once, free of charge.
2. Within one month, if the machine is of any big fails, we will send you a new machine.
3. Within one year, if you send back the equipment for repair, we will be responsible for the repair, including the changes of accessories; Bothof them are free of charge.
4. If the buyer has any questions from our technical department, we can supply on-line service .
Our mission is to offer you the products with high quality, reasonable price and good packing, as well the fast service and delivery time, so that you can do business with us relievedly and happily.
I am very glad to recieve your inquiry.